Third/Fourth Degree Tear Claims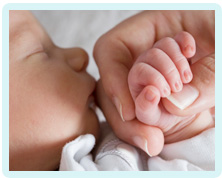 Compensation For Missed Fourth Degree Tear
Anusha developed faecal incontinence after giving birth to her first child. Sadly it took doctors over a year to realise that she had in fact sustained a fourth degree tear. Because of the missed diagnosis it is unlikely that she will ever regain normal function.
When Anusha wnet into labour with her first child, she arrived at hospital fully dilated and less than an hour later a healthy baby girl was born. After the delivery, the midwife attending Anusha carried out a quick examination. However, this was performed in poor lighting and did not include a digital rectal examination. She diagnosed a minor tear which the midwife stitched.
Two weeks after the birth, Anusha thought she might be passing faeces through her vagina. She then suffered an episode of faecal incontinence. She mentioned this to her health visitor who advised her to discuss the matter with her GP. Anusha did so during her six week check-up and was given a digital rectal examination. The GP said her anal squeeze pressure appeared normal and it was likely her incontinence would settle down.
Anusha was told to continue with her pelvic floor exercises, as this would help her recovery. Unfortunately this was not the case. Despite the exercises, Anusha suffered regular episodes of faecal incontinence and was forced to wear pads on a daily basis. Eventually she could cope with it no longer, and 10 months after giving birth returned once again to her GP for medical assistance.
This time Anusha's GP referred her to a gynaecology expert. She examined Anusha and noted that she had a deficient perineal body and a deficient sphincter. This was confirmed by a colorectal surgeon who diagnosed a missed fourth degree tear. The injury had been sustained during childbirth and should have been diagnosed and repaired at the time. This would have prevented Anusha from developing faecal incontinence.
Sadly the midwife failed to perform a digital rectal examination and so mistook the laceration for a more minor tear. This means Anusha had a defect in her anal sphincter, limiting her ability to control the passing of faeces and wind. She later underwent surgery to repair her sphincter which has improved her condition slightly. However, she still experiences episodes of incontinence.
The negligence of the midwife has had a terrible impact upon Anusha and her family. She no longer goes out socially as the embarrassment of an incident occurring is upsetting for her. She cannot spend time with her children as she had hoped - for example, taking them swimming - or exercise in public.
Furthermore, Anusha cannot work because of her incontinence. This has caused her and her husband great financial difficulty.
We helped Anusha make a claim for her missed fourth degree tear. She was awarded over £250,000 in compensation.
(Details which might identify our client have been changed.)
Would You Like Assistance from Specialist Birth Injury Claims Solicitors?
If you would like to benefit from a service of excellence with total commitment to client care from a small and friendly team, Glynns are ready and waiting to help you.
Please call us on 0800 234 3300 (or from a mobile 01275 334030) or complete our Online Enquiry Form.

---
Testimonials
"Before we contacted you we had no real idea that we had grounds for a medical negligence claim but after speaking to you if became clear that Wendy was indeed treated poorly. Chris took the time to explain what was happening and kept us to speed. Our deepest gratitude to you all and Chris in particular."
"I would like to say a big thank you to you for making this whole process easy and relatively painless. You kept me informed throughout and you were always polite and courteous in all forms of communication. I would not hesitate to recommend you to friends and family, so a really big thank you and I wish you all the best in the future."
» Read More Medical Negligence Testimonials?

Free Birth Injury Guide