Birth Injury Case Studies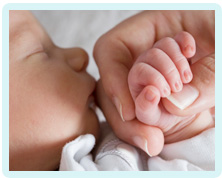 Missed Fourth Degree Tear
After giving birth to her first child, Leena began to pass faeces through her vagina. She returned to hospital and was told she had a missed fourth degree tear with a recto-vaginal fistula.
When Leena gave birth to her first child, the labour was protracted and the baby's heart rate began to slow. Eventually the registrar decided to speed up the delivery with an episiotomy, whereby the perineum is deliberately cut to widen the vaginal opening. Shortly afterwards a healthy baby girl was born.
After the delivery, the registrar told Leena that he was going to repair the episiotomy. At no point was a rectal examination performed to check whether or not she had sustained a tear. The pain in her perineal area was excruciating and Leena was crying with agony. Her extreme discomfort did not subside, but despite this she was discharged the following day.
At home Leena remained in terrible pain and was unable to walk up the stairs. After five days she managed to pass her first bowel motion. Worryingly, she noticed that it came from her vaginal area where the stitches were located. Instinctively, Leena knew something was wrong.
After ringing the hospital, Leena was asked to return for a check-up appointment that day. An examination showed that she had had a midline episiotomy, which goes against current guidelines as it is known to increase the risk of a tear. She was diagnosed with a missed fourth degree tear and a recto-vaginal fistula. These injuries should have been detected and repaired by the registrar after the delivery. Had this happened, all of Leena's complications could have been avoided.
Leena had to remain in hospital for a surgical repair. After many postponements, corrective surgery was carried out six days later. She was not allowed to keep her baby girl with her after the procedure, so relatives who lived over 100 miles away had to care for her. Leena's health was so poor that her baby remained there for the next three months, something she found very difficult to deal with.
Leena describes the events surrounding the birth as the worst time of her life. She was in terrible pain and required further surgery to her rectum. She was fitted with a colostomy bag which remained in place for over a year. She was so frail she could not do anything for herself and her husband had to care for her full-time.
When Leena was finally strong enough to care for her baby, she felt she had failed to bond with her. She had missed the first few weeks of her daughter's life and had been unable to breastfeed. The hospital had robbed her of this and it was something she would never get back.
Understandably Leena has become very tearful about what has happened, as she believed the birth of her first child would be a happy time. Instead the missed fourth degree tear has caused her and her family significant trauma, both physically and emotionally.
We helped Leena make a claim for her missed fourth degree tear. She was awarded over £50,000 compensation.
(Details which might identify our client have been changed.)
Would You Like Assistance from Specialist Birth Injury Claims Solicitors?
If you would like to benefit from a service of excellence with total commitment to client care from a small and friendly team, Glynns are ready and waiting to help you.
Please call us on 0800 234 3300 (or from a mobile 01275 334030) or complete our Online Enquiry Form.

---