Birth Injury Articles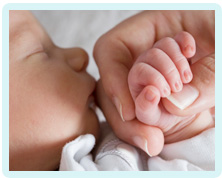 Missed 3rd Degree Tear Compensation
A missed 3rd degree tear may lead to a successful medical compensation claim. If you are wondering whether you are eligible to pursue a claim, please contact us today.
What does a missed 3rd degree tear mean?
A 3rd degree tear is a perineal tear that can happen during the vaginal delivery of a baby. It occurs when the baby's head passes through the vaginal opening but the tissue cannot stretch far enough, causing it to rip. There are differing grades of perineal tear, with a 3rd degree tear amongst the most severe (second only to a 4th degree tear).
With a 3rd degree tear, the perineal skin, perineal muscle and part of the anal sphincter complex will be injured. This laceration needs to stitched back together in the hours after the birth. But sometimes this repair is not achieved because medical practitioners have failed to diagnose the tear.
A 3rd degree tear might be missed entirely by a midwife or doctor, or it may be that the tear is mistaken for a more minor injury – such as a 1st or 2nd degree tear. What happens then is that the patient does not have a repair, or is there has been a misdiagnosis then the full length of the tear is not sutured.
The patient will then be left with a defect in her perineal muscles and/or anal sphincter. This can cause serious discomfort, faecal incontinence and difficulty controlling flatulence. These symptoms often prompt the patient to seek further medical attention, which then results in the missed tear being discovered.
However, it may be days, weeks, months or even years before the patient obtains a correct diagnosis, as concerns may be dismissed by clinicians or even by the patient herself. Sometimes problems do not actually arise until weeks or months have passed.
You may think that whenever a 3rd degree tear is diagnosed, a repair can then be carried out. Sadly this is not the case, as perineal tears need to be stitched shortly after the birth – certainly within 24 hours. After this time frame the tissues will be much harder to suture and a surgical repair is much less effective. So much so that a patient may be advised against it.
Has this happened to you?
Therefore if you sustained a 3rd degree tear while giving birth but the injury was not diagnosed until 24 hours or more had passed, you have had a missed 3rd degree tear. You could be able to claim compensation for the damage this mistake has had on your life.
Please call us on 0800 234 3300 (or from a mobile 01275 334030) or complete our Online Enquiry Form.

---
Testimonials
"Before we contacted you we had no real idea that we had grounds for a medical negligence claim but after speaking to you if became clear that Wendy was indeed treated poorly. Chris took the time to explain what was happening and kept us to speed. Our deepest gratitude to you all and Chris in particular."
"I would like to say a big thank you to you for making this whole process easy and relatively painless. You kept me informed throughout and you were always polite and courteous in all forms of communication. I would not hesitate to recommend you to friends and family, so a really big thank you and I wish you all the best in the future."
» Read More Medical Negligence Testimonials?

Free Birth Injury Guide