Birth Injury Articles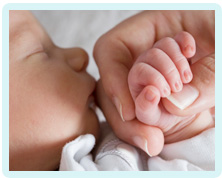 Incontinent After Childbirth
Vaginal childbirth is natural, isn't it? Globally, thousands of women give birth vaginally every single day. So why do some women still suffer with bowel problems years later?
What's the bowel got to do with it?
It seems surprising that giving birth naturally could have any impact on a woman's ability to control her bowels, reducing or removing her ability to prevent the release of wind or faeces. The bowel plays no part in either pregnancy or labour, so how is it affected by birth?
However, vaginal childbirth can be a physically - and psychologically - traumatic event and the anus - the opening to the bowel - is unfortunately close to the centre of action.
Damaging the anus in childbirth
Currently, approximately one in twenty women will experience a severe tear between their vagina and anus when they give birth. This is particularly likely if their baby is large, if this is the first time that they have given birth vaginally or if the birth has been problematic and they have needed the assistance of forceps or a ventouse to release the baby from the mother's body.
Severe perineal tears, also known as OASIs (obstetric anal sphincter injuries) are classified according to the nature of the damage caused by the tear as third or fourth degree tears. Both tears affect the anus.
A third degree tear injures at least the external muscle that controls the opening and closing of the bowel. It may also affect the internal sphincter muscle.
A fourth degree tear will additionally damage the lining of the internal anal canal.
Consequently, the passing of a baby out of the mother's body via the vagina can, indeed, impact significantly on the mother's ability to control the functions of her bowel.
Repairing the injury
Damage to the anus and the subsequent possible development of wind and/or faecal incontinence can cause long-term and life-changing symptoms if left unattended.
Immediate diagnosis and treatment is imperative.
The first step is for the midwife or obstetrician to carry out a thorough examination of the mother after the birth in order to diagnose if a tear of any degree has occurred and to identify and record the extent of any damage.
If a third or fourth degree tear has occurred, the woman needs a prompt and skilled repair in an operating theatre.
Medical Negligence
If you have been left with the appalling long-term symptoms of a poorly-treated perineal tear, you may be able to make a claim for compensation.
Glynns Solicitors receives numerous requests for legal advice from women who have not received the level of care they require following the birth of their baby and who are suffering with the after-effects.
Contact us to discuss your circumstances with a specialist medical negligence solicitor.
Please call us on 0800 234 3300 (or from a mobile 01275 334030) or complete our Online Enquiry Form.

---
Testimonials
"Before we contacted you we had no real idea that we had grounds for a medical negligence claim but after speaking to you if became clear that Wendy was indeed treated poorly. Chris took the time to explain what was happening and kept us to speed. Our deepest gratitude to you all and Chris in particular."
"I would like to say a big thank you to you for making this whole process easy and relatively painless. You kept me informed throughout and you were always polite and courteous in all forms of communication. I would not hesitate to recommend you to friends and family, so a really big thank you and I wish you all the best in the future."
» Read More Medical Negligence Testimonials?

Free Birth Injury Guide