Birth Injury Articles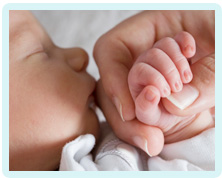 I Had A Severe Perineal Tear – Can I Claim?
If you have a severe perineal tear while giving birth, have you been the victim of medical negligence and are you entitled to pursue a claim?
To discuss the care you received with a medical negligence solicitor, please get in touch with us today.
Severe perineal tears
There are four types of perineal tear: a 1st degree tear, 2nd degree tear, 3rd degree tear and a 4th degree tear. The higher the number, the worse the injury is. Therefore 'severe' perineal tears are considered to be 3rd and 4th degree tears. These two injuries actually extend down through the perineum and into the anal sphincter complex, the muscles which control the passing of wind and faeces.
I had a severe perineal tear – is this negligent?
If you have had a 3rd or 4th degree tear, you will be aware that the injury is unpleasant and can take weeks or months to recover from. For some the experience will put them off having future vaginal deliveries, particularly if there have been long-term symptoms such as pain, discomfort during sexual intercourse, and faecal urgency.
All this is of course very upsetting, and you may be wondering whether it should ever have happened in the first place. Could more have been done to prevent your tear? And was it the result of medical neglect?
Perineal tears are part and parcel of vaginal births. Although not everyone will sustain a tear, it is something that does happen and it is a known risk of vaginal deliveries. Therefore if you suffered a 3rd or 4th degree tear is it unfortunate, but it is not negligent.
When can I claim?
However, as you may be aware, perineal tears often lead to successful medical negligence claims. So if it is not negligent to sustain a tear, why would a medical negligence claim arise?
Most claims relating to perineal tears occur because the injury has not been diagnosed and repaired. It is not very common for a claim to involve a first or second degree tear. But if a third or fourth degree tear has been missed, the consequences can be life-changing – which is why the victim deserves the chance to pursue a claim against those at fault.
Want to know more?
If you would like to know whether you are able to make a claim for a perineal tear, please get in touch with the team at Glynns Solicitors.
Please call us on 0800 234 3300 (or from a mobile 01275 334030) or complete our Online Enquiry Form.

---
Testimonials
"Before we contacted you we had no real idea that we had grounds for a medical negligence claim but after speaking to you if became clear that Wendy was indeed treated poorly. Chris took the time to explain what was happening and kept us to speed. Our deepest gratitude to you all and Chris in particular."
"I would like to say a big thank you to you for making this whole process easy and relatively painless. You kept me informed throughout and you were always polite and courteous in all forms of communication. I would not hesitate to recommend you to friends and family, so a really big thank you and I wish you all the best in the future."
» Read More Medical Negligence Testimonials?

Free Birth Injury Guide