Birth Injury Articles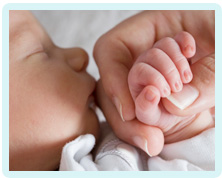 Home births and Third-Degree Tears
Between 1990 and 2006, the number of women giving birth at home saw a three-fold increase from a historically low rate of less than one percent in the late eighties.
Most women who opt for a home birth are between 35-39, well-educated and middle-class. And generally, for this demographic, a home birth is just as safe as a hospital delivery. For poor women, the reverse is true.
One of the risks that concerns women is suffering from a debilitating third degree tear in childbirth. Does the risk of this increase if an expectant mother opts to give birth at home? And if it does occur, who is responsible and can compensation be claimed?
A brief history of home births
Having a baby in hospital is a remarkably recent trend. The Queen gave birth to all her children at home. In the 1960s 1 in 3 British women gave birth at home. By 1975, however, home births had fallen below five percent, remaining there ever since.
There are many reasons for the decline of home births. The introduction of pain relief and a more risk-adverse society definitely plays a part in the dramatic drop in rates, as does societal pressure (home birthing was seen as a bit hippyish). But alongside breastfeeding, and natural, drug-free births, both of which have seen a significant increase since the 1990s, the home is seen as the preferred location for having a baby for an increasing number of well-educated women.
The risks of third-degree tears with home births
The risk associated with home births is a highly emotive topic. Depending on who you talk to, home births are either the most natural, calm way of having a baby or bordering on irresponsible.
Speaking to The Guardian, Philip Steer, emeritus professor in obstetrics and gynaecology at Imperial College London who has assisted at around 8,000 births and was an adviser to Nicholas Winterton's committee on health when it undertook an in-depth inquiry into maternity services in 1992, stated that he is not "anti-home birth", but admits he "feels slightly frustrated when women's groups say most women should have a natural labour". Human birth is not as straightforward as many claim, he argues, "Over the last half a million years, the pelvis has become much smaller, to adapt to our upright posture. And because being brainy is such an advantage, our baby's heads have become much bigger. In some parts of Africa, this causes the death of one in six women from obstructed labour. In Nigeria alone, more than one million women are waiting for surgery to have their bladder repaired because of damage done by pressure of a prolonged labour during childbirth."
Steer also explains that problems in labour arise far more commonly than many people appreciate. Around half of pregnant women in the UK will have or develop a complicating factor – from high blood pressure to diabetes – that makes a hospital birth advisable. Of the remaining half, he says, about 50% develop a problem during labour that may require an emergency transfer to hospital; "That can be very traumatic, even if things end up well."
And sometimes home-births do not end up going well. One women who told The Guardian that she ended up with an infection so serious she nearly died, "The midwife made me give birth in a position I wasn't comfortable in, which meant I tore really badly. She stitched me up, but there was internal damage she missed. I ended up in hospital on a drip for a week and having to undergo reconstructive surgery."
Fixing third-degree tears
A third degree tear should be repaired in surgery by an appropriately trained obstetrician. This allows the anal sphincter to relax so that the torn ends can be retracted and brought together without tension.
Inexperienced attempts at anal sphincter repair may contribute to maternal morbidity, especially subsequent anal incontinence.
Midwives attending a home birth may also confuse a third degree tear with a first or second degree tear and fail to call an ambulance.
If a third-degree tear is not repaired properly and immediately, it can be very difficult to repair the damage at a later date. Long-term disability may also result if the tear is missed or mis-diagnosed.
Figures from 2011 show that of the women having their first pregnancy who opted for a home birth, 45% were transferred to hospital before or after delivery (this drops to 12% for women who have given birth before). Clearly, incidents that require intensive medical care do happen in a home birth situation.
So are home births riskier? According to research, for women with low-risk pregnancies, the answer is no, especially if they have given birth before. However, experts such as Philip Steer are still unconvinced as are many other obstetricians.
In the end, it is up to the mother to evaluate the evidence and make her own decision. It is her body after all.
Making a medical negligence claim
If you have suffered a third-degree tear during a home birth, or your third-degree tear was missed or not repaired properly, you may be entitled to receive compensation.
The first step to making a claim is to get in touch with an experienced law firm who acts for personal injury claimants.
At Glynns Solicitors we have the expertise required to successfully act for women who have received a third-degree tear caused by medical negligence.
Please call us on 0800 234 3300 (or from a mobile 01275 334030) or complete our Online Enquiry Form.

---
Testimonials
"Before we contacted you we had no real idea that we had grounds for a medical negligence claim but after speaking to you if became clear that Wendy was indeed treated poorly. Chris took the time to explain what was happening and kept us to speed. Our deepest gratitude to you all and Chris in particular."
"I would like to say a big thank you to you for making this whole process easy and relatively painless. You kept me informed throughout and you were always polite and courteous in all forms of communication. I would not hesitate to recommend you to friends and family, so a really big thank you and I wish you all the best in the future."
» Read More Medical Negligence Testimonials?

Free Birth Injury Guide