Birth Injury Articles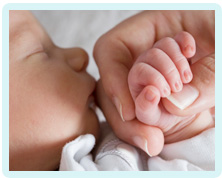 Failed To Diagnose Tear After Delivery
If you develop incontinence of faeces after giving birth, it may mean that you have an underlying injury. Further tests will reveal whether this is the case. If so, it means that doctors/midwives failed to diagnose the tear after the delivery.
Incontinence after birth – is there an injury?
If a patient reports faecal urgency and incontinence after giving birth, she should be sent for anorectal physiology and endoanal ultrasound, as this will reveal whether there is an injury present.
Low anal resting and squeeze pressures, and defects in the internal and/or external anal sphincter, are compatible with an obstetric anal sphincter injury. If a patient is found to have these problems, it must mean that a tear was missed by medical practitioners. Such injuries cannot occur spontaneously after a delivery.
Not all women with anal sphincter defects have immediate symptoms of anal incontinence. It can take months or years before the symptoms manifest. When they do arise, the woman will normally experience faecal urgency, with the inability to defer defecation for long. There may also be faecal soiling, faecal leakage and difficulty controlling the passing of wind.
Obstetric sphincter injury
Obstetric anal sphincter injuries are invariably limited to segments of the anterior half of the anal muscle ring – i.e. less than 180 degrees of the 360 degree ring of muscle. The defects are usually described as hours on a clock face, and180 degrees will be equivalent to 9 to 3 o'clock.
The severity of the injury can be determined as follows:
Involvement of both the internal and external anal sphincter
The circumferential extent of the injury, described according to hours on a clock face. Injuries can range from 1 hour to 6 hours
The longitudinal extent of the injury, which can involve either the full or partial length of the anal sphincter
The depth of the injury, which can be of full thickness or partial thickness
Anal manometry will help to ascertain the structures involved. A low maximum resting pressure reflects poor internal sphincter function, and low maximum squeeze pressure reflects poor external sphincter function.
Why has this happened?
As mentioned above, if you are found to have an obstetric anal sphincter injury, it can only mean that it was missed after you gave birth. A tear involving the anal sphincter should be identified by any clinically competent midwife or obstetrician after the delivery. A diagnosis can be achieved with an assessment involving a rectal examination.
If a doctor or midwife fails to diagnose a severe perineal tear which extends to the anal sphincter, there may be grounds for a medical negligence claim. Contact us for more information.
Would You Like Assistance from Specialist Birth Injury Claims Solicitors?
If you would like to benefit from a service of excellence with total commitment to client care from a small and friendly team, Glynns are ready and waiting to help you.
Please call us on 0800 234 3300 (or from a mobile 01275 334030) or complete our Online Enquiry Form.

---