Birth Injury Case Studies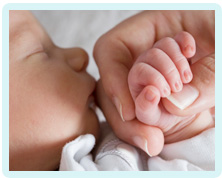 Episiotomy Performed With Blunt Scissors
Justine's episiotomy was performed with blunt scissors, contributing towards her sustaining a third degree tear. This injury was not properly repaired at the hospital, causing her to develop faecal urgency.
The birth of Justine's first child was a long and difficult one. Eventually the team caring for her decided to attempt an assisted delivery. She was taken into theatre, placed in the lithotomy position and an episiotomy performed. Two cuts were required, after which a healthy baby boy was delivered with forceps.
Shortly after the birth, Justine was told she had sustained a third degree tear. This was repaired by the consultant in theatre. She had a temperature, had lost a lot of blood and felt faint, so she remained in hospital another day for observation. She was discharged the following afternoon with antibiotics and stool softeners.
However, she continued to experience bowel problems. She was suffering from a lot of wind, and if she needed to go to the toilet there was always a sense of urgency. Because of this, Justine requested an appointment with a specialist consultant. She underwent an endoanal ultrasound and rectal physiology which revealed a defect at the top of her sphincter.
It appears the third degree tear she sustained during birth had not been properly repaired. Upon obtaining her medical records, Justine also discovered that the episiotomy had been performed with blunt scissors. It is very likely that this contributed towards her suffering a third degree tear.
Although Justine later had sacral nerve stimulation, she continues to have problems with faecal urgency and control of wind. She has become reluctant to go out in case an urgent need to use the toilet arises.
Understandably this has caused Justine considerable emotional distress and she experienced post-natal depression.
These complications could have been avoided had the consultant used a sharp pair of scissors, and repaired the third degree tear competently. These failings amounted to a substandard level of care, for which we helped Justine make a claim. She was awarded over £100,000 compensation.
(Details which might identify our client have been changed.)
Would You Like Assistance from Specialist Birth Injury Claims Solicitors?
If you would like to benefit from a service of excellence with total commitment to client care from a small and friendly team, Glynns are ready and waiting to help you.
Please call us on 0800 234 3300 (or from a mobile 01275 334030) or complete our Online Enquiry Form.

---