Birth Injury Case Studies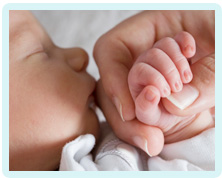 Emergency Caesarean
Miranda went in to labour seven weeks prematurely and was told she may need an emergency caesarean. However, it was not carried out and her newly born baby soon started to have problems. Tragically he died hours later.
By the time she was three months pregnant with her first baby, Miranda knew something was not right. There was a reduction in amniotic fluid surrounding the baby and this continued to decrease as the months went by. However, Miranda was reassured that her baby was growing well.
Two months before her due date, Miranda began to leak a large amount of fluid and blood from her vagina. She was rushed to hospital, and, despite being told she may have placental eruption, was left in a ward for two days without receiving treatment. She was in extreme pain and vomiting, but still medical staff decided to wait to see how her condition progressed.
It was suggested that she would need an emergency caesarean. However, no action was taken and in the early hours of the following day Miranda began to go in to labour. She gave birth to her son, Harry, seven weeks prematurely. He was a breach baby and weighed just 3lbs 14ozs.
The birth was both hurried and distressing, leaving Harry with hypoxic ischaemic encephalopathy (whereby the cells in the brain and central cord are damaged from inadequate oxygen). He was taken straight to the Specialist Care Baby Unit but his condition quickly deteriorated. At three hours old he started to have epileptic seizures, and by six hours his heart began to fail. He died a short time later.
Subsequently Miranda has struggled to continue with her life. She felt unable to return to her job, no longer socialises, and battles with depression.
Miranda feels she should have pressed medical staff for a caesarean section, which if performed earlier would have saved Harry's life. The Defendant hospital trust accepted this was the case, and that the sub-standard level of care had caused Harry to lose his life. Glynns helped Miranda make a medical negligence claim, which was soon settled for over £20,000.
(Details which might identify our client have been changed.)
Would You Like Assistance from Specialist Birth Injury Claims Solicitors?
If you would like to benefit from a service of excellence with total commitment to client care from a small and friendly team, Glynns are ready and waiting to help you.
Please call us on 0800 234 3300 (or from a mobile 01275 334030) or complete our Online Enquiry Form.

---