Birth Injury Articles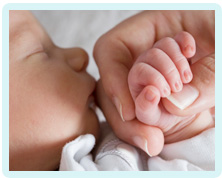 Does Obesity Increase the Risk of Perineal Tearing?
If you are overweight or obese when giving birth, are you at increased risk of tearing during the delivery?
Can weight increase the risk of perineal tears?
The correlation between weight and perineal tears is something that has only been considered in recent years. Therefore there is not a great deal of scientific literature regarding the subject. Of the studies that have been carried out, there is significant variation in the results.
One study by Edward et al. concludes that obese women are more likely to suffer recurrent obstetric sphincter injuries (meaning third or fourth degree tears). In contrast, Landy et al. found that obesity actually decreased the risk of sphincter injuries. But another study by Buhimschi et al. suggested there was no link whatsoever between weight and perineal tearing.
Even more confusingly, a study by Lindholm et al. showed that in obese patients the risk of severe perineal tearing decreased, whereas the risk of first or second degree tears increased.
The paper describes this as 'surprising' and speculates that the higher levels of cholesterol in obese women may protect them from severe tears. This is because cholesterol raises the serum levels in the membranes, ultimately avoiding too much oxytocin being released during labour. This prevents excessive contractions and, in turn, helps to avoid severe injury.
Other risk factors of obesity
Thus there continues to be some uncertainly as to whether obesity increases the risks of perineal tears. However, it is known the obesity increases other risks during pregnancy and childbirth, including:
Larger than average baby
Gestational diabetes
Pre-eclampsia
High blood pressure
Shoulder dystocia
Stillbirth
Factor known to increase the risk of tearing
Aside from the possible risk that obesity poses, there are certain factors that increase the risk of perineal tears, such as:
First vaginal delivery
Larger than average baby
Shoulder dystocia
Being induced
Long second stage of labour
Being induced
Having an assisted delivery
Is a tear negligent?
Tearing during childbirth is not negligent. It is of course an unpleasant injury and it can take some time to recover from.
However, what is negligent is if clinicians fail to diagnose and repair the tear. A woman should not go more than 24 hours without having her perineal tear diagnosed and repaired. If more than 24 hours pass, the injury will be much harder to suture and the outcome may be less favourable.
If your perineal tear was not diagnosed and repaired within a reasonable amount of time, you could be the victim of medical negligence. Contact us to find out more.
Please call us on 0800 234 3300 (or from a mobile 01275 334030) or complete our Online Enquiry Form.

---
Testimonials
"Before we contacted you we had no real idea that we had grounds for a medical negligence claim but after speaking to you if became clear that Wendy was indeed treated poorly. Chris took the time to explain what was happening and kept us to speed. Our deepest gratitude to you all and Chris in particular."
"I would like to say a big thank you to you for making this whole process easy and relatively painless. You kept me informed throughout and you were always polite and courteous in all forms of communication. I would not hesitate to recommend you to friends and family, so a really big thank you and I wish you all the best in the future."
» Read More Medical Negligence Testimonials?

Free Birth Injury Guide