Birth Injury Articles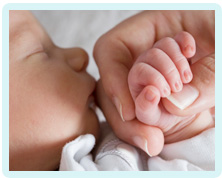 Classification of Perineal Tears
A perineal tear is also known as a perineal laceration, birth injury or vaginal tear. It is an injury that can be sustained by a woman while giving birth by way of vaginal delivery.
Why does a perineal tear happen?
A perineal tear happens when the vaginal opening is too small to accommodate the baby's head. Therefore when the baby's head is delivered, the vagina will not be able to stretch wide enough and will instead rip.
A perineal tear does not affect every woman who gives birth vaginally, although it is estimated that around 90% of vaginal deliveries result in some form of tear. Certain people will be more at risk, such as women who have very large babies, need an assisted delivery or have an epidural.
Classification of perineal tears
Not all perineal tears are the same. In fact, the types of injury vary significantly. Some are very superficial and involve just the perineal skin, while others are extensive and involve the anal sphincters.
In order to better describe a perineal tear, medical practitioners have come up with a classification system. This arranges perineal tears in order of severity, ranging from a 1st degree tear (the leave severe) to a 4th degree tear (the most severe).
1st, 2nd, 3rd and 4th degree tears can be described as follows:
1st degree tear: laceration of the vaginal epithelium (the tissue lining the vagina) or perineal skin only.
2nd degree tear: laceration of the perineal muscles and fascia as well as the vaginal epithelium and perineal skin. The anal sphincter is not involved.
3rd degree tear: laceration of the anal sphincters, as well as the vaginal epithelium, perineal skin, perineal body. Unlike other tears, 3rd degree tears can be further subdivided into:

3a: partial tear of the external sphincter involving less than 50% thickness
3b: tear of the external sphincter involving more than 50% thickness
3c: external and internal sphincter torn
4th degree tear: the same as a third degree tear, but the injury extends to the tissue underneath (the anal epithelium).
Diagnosing a perineal tear
After a vaginal birth, a medical practitioner must check whether there is an injury, and if so, determine what structures are involved. The attending clinician can then match the injury to the classification system, diagnosing a 1st, 2nd, 3a, 3b, 3c or 4th degree tear.
It is very important the correct type of tear is diagnosed. This is because different tears require different treatment. A 1st or 2nd degree tear can be sutured in the delivery suite by a doctor or a midwife. But a 3rd or 4th degree tear has to be repaired by an experienced surgeon in theatre.
If a tear is not accurately diagnosed, it could mean that part of the injury is left unrepaired. For example, if a 3rd degree tear is mistaken for a 2nd degree tear, the anal sphincter will not be sutured. This can result in ongoing incontinence, which will of course be extremely distressing.
Medical negligence claim
If your 3rd or 4th degree tear was not correctly diagnosed and repaired, please contact us to discuss making a medical negligence compensation claim.
Can We Help You With A Birth Injury Enquiry?
If we can help you to make a claim for compensation you will benefit from the following funding options:
Conditional Fees ("no win, no fee")
Legal Expenses Insurance
Private Funding
Structured Payment Plans
Would You Like Assistance from Specialist Birth Injury Claims Solicitors?
If you would like to benefit from a service of excellence with total commitment to client care from a small and friendly team, Glynns are ready and waiting to help you.
Please call us on 0800 234 3300 (or from a mobile 01275 334030) or complete our Online Enquiry Form.

---