Birth Injury Case Studies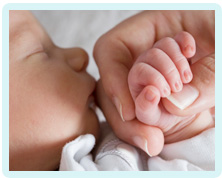 Compensation for Badly Repaired 4th Degree Tear
After a poorly managed labour, Branwen was told she had sustained a 4th degree tear. The injury was sutured, but she remained incontinent of faeces. Tests later revealed that the repair was of a poor standard, leaving her with permanent dysfunction.
When Branwen delivered her first child, the birth was badly managed, as she was left to labour for a long time. An instrumental delivery was eventually performed in the delivery suite, although it should have been conducted in theatre.
Thankfully a healthy baby boy was born. However, she was immediately told she had sustained a 4th degree tear and was taken to theatre for a repair.
Back on the maternity ward, Branwen noticed she was bleeding profusely. When she stood up blood would pour over the floor, leaving her largely bed-bound. Despite this, the midwives did not help her during the night when her baby needed changing or feeding.
Due to the lack of care, Branwen took the decision to discharge herself the following day. She had imagined bringing her baby home would be a joyful occasion, but instead she was just traumatised by her experience in hospital.
Over the next few weeks, Branwen found that she was also incontinent. She kept telling the Community Midwife and her GP about her symptoms, but each time was reassured. It was not until her six week check-up that an examination revealed weak anal sphincter muscles.
She was referred on to a specialist, but this appointment did not happen until five months after the birth. A scan performed later that year revealed a gap in the internal anal sphincter. Both her internal and external anal sphincter had not been fully repaired, leaving her with no control over her bowel movements.
Branwen was treated conservatively with medication. She may need surgery in the future, although there is only a 60% success rate for secondary repairs of the anal sphincter, and an operation could in fact make her symptoms worse.
Branwen must now ensure that she is close to a toilet at all times. She avoids social situations where she might have an accident or uncontrollable bout of wind. This made it impossible for her to return to work. This loss of income has been very difficult for her and her husband.
Understandably all this has affect Branwen psychologically. She is constantly anxious and suffers from panic attacks. She thought the birth of her first child would be a happy occasion, but it has been overshadowed by the substandard medical care she received in hospital.
We helped Branwen pursue a claim. She was awarded over £250,000 compensation.
(Details which might identify our client have been changed.)
Would You Like Assistance from Specialist Birth Injury Claims Solicitors?
If you would like to benefit from a service of excellence with total commitment to client care from a small and friendly team, Glynns are ready and waiting to help you.
Please call us on 0800 234 3300 (or from a mobile 01275 334030) or complete our Online Enquiry Form.

---
Testimonials
"Before we contacted you we had no real idea that we had grounds for a medical negligence claim but after speaking to you if became clear that Wendy was indeed treated poorly. Chris took the time to explain what was happening and kept us to speed. Our deepest gratitude to you all and Chris in particular."
"I would like to say a big thank you to you for making this whole process easy and relatively painless. You kept me informed throughout and you were always polite and courteous in all forms of communication. I would not hesitate to recommend you to friends and family, so a really big thank you and I wish you all the best in the future."
» Read More Medical Negligence Testimonials?

Free Birth Injury Guide