Birth Injury Articles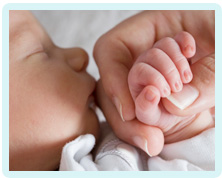 3rd Degree Tear With First Baby
A 3rd degree tear can happen to anyone giving birth vaginally, although women giving birth vaginally for the first time are more at risk.
3rd degree tear from first baby
As mentioned above, women who are having a baby by way of vaginal delivery are more at risk of a 3rd degree tear. It may be that a woman has previously had a child or children by way of caesarean section. Such patients are still at risk because they have not had a vaginal birth before.
You are more likely to have a 3rd degree tear with your first baby (or first vaginal delivery) because the vaginal opening and perineum will not have been stretched by a former birth. This means that there may not be enough room for the baby's head and shoulders to pass through, causing the tissue to tear.
Will I have a 3rd degree tear?
However, not everyone will tear when giving birth vaginally for the first time. Only around 9% of women in the UK sustain a 3rd or 4th degree tear when giving birth, and this figure includes both first time mothers and women who have previously had a vaginal birth. Therefore a relatively small number of women will sustain a 3rd degree tear.
Other risk factors for 3rd degree tear
There are also other factors that can increase the risk of a 3rd degree tear. These include:
Larger than average baby
Assisted delivery – forceps or ventouse
Midline episiotomy – as opposed to medio-lateral episiotomy
Epidural
Long second stage of labour
Being induced
Shoulder dystocia – when the baby's shoulder becomes stuck
Can a 3rd degree tear be prevented?
It is not possible to predict who will get a 3rd degree tear, which means that it is not possible to prevent a 3rd degree tear. Even if you are known to be at risk, the injury cannot necessarily be avoided.
Indeed, a birth cannot be planned entirely, and certain things are needed to ensure the safety of the baby/mother – such as an assisted delivery or induction. Furthermore, some things cannot be foreseen, including shoulder dystocia and the mother needing an epidural.
I think my birth was negligently managed
Nevertheless, there are examples of a birth being negligently managed, in turn causing a patient to sustain a 3rd degree tear.
For instance, a midline episiotomy is no longer acceptable practice in England and Wales. Instead a medio-lateral episiotomy should be carried out. Midline episiotomies are known to lead to 3rd degree tears and so must be avoided.
There may also be a breach of duty if medical practitioners failed to revert to a C-section because of a larger than average baby, or if there was a very long second stage of labour.
To find out if your 3rd degree tear happened because of medical negligence, please get in touch with us and speak to a medical negligence solicitor.
Please call us on 0800 234 3300 (or from a mobile 01275 334030) or complete our Online Enquiry Form.

---