Birth Injury Articles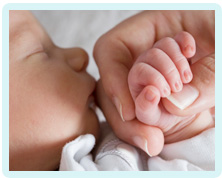 3rd Degree Tear Treatment
A 3rd degree tear needs to be treated within 24 hours of the injury being sustained. The full length of the tear must be sutured with dissolvable stitches, and medication prescribed to prevent infection. Long-term treatment should continue in the form of physiotherapy.
Treating a 3rd degree tear – surgical repair
If a woman sustains a 3rd degree tear during childbirth, treatment should commence as soon as possible.
The first step is to transfer the patient to theatre (if she is not already there) for a surgical repair. The patient must be given adequate pain relief, usually in the form of local anaesthetic or an epidural.
An appropriately trained doctor must then suture the full length of the tear with dissolvable stitches. Midwives are not able to perform such repairs and it must be a doctor with experience in anal sphincter repairs.
Once the tear has been stitched, a rectal examination is needed to ensure the anus is repaired and the sutures are in the right place. When the surgeon is happy that the tear has been fully repaired, the patient can be sent back to the ward.
Treating a 3rd degree tear – on the ward
The patient should then be given medication to aid the healing process. This includes antibiotics to prevent infection, and laxatives to soften stools (thereby preventing the stitches from coming apart during a bowel movement).
When the patient has successfully passed a stool, she can be allowed to return home. However, the wound should be examined first to make certain that the stitches are intact and the wound is healing.
The patient should be given antibiotics and laxatives to take home. Advice must also be given about how to manage the wound – for example, the patient should be advised to keep it clean, drink plenty of fluids and get air to the area.
Ongoing treatment for 3rd degree tear
Physiotherapy will benefit the patient's recovery. Before leaving hospital, she should be shown pelvic floor exercises to do at home. Additionally she should be referred to a women's physiotherapy service for ongoing treatment.
A six-week check-up is needed for all women who have had a 3rd degree tear. If possible this should be with a specialist in obstetric injuries. If the patient suffers any problems before this check-up, she should be urged to tell her GP or community midwife as soon as possible.
3rd degree tear not treated
It is negligent to leave a 3rd degree tear untreated. Sadly this does happen, often because clinicians fail to diagnose the injury, or because the wrong type of tear is diagnosed.
If your 3rd degree tear was not surgically repaired within 24 hours of the birth, please get in touch with us to discuss the possibility of a legal claim.
Please call us on 0800 234 3300 (or from a mobile 01275 334030) or complete our Online Enquiry Form.

---