Birth Injury Articles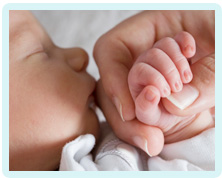 3rd Degree Tear Infection
If a 3rd degree tear becomes infected, it must be diagnosed and treated with antibiotics quickly. This will prevent the wound from breaking down – something which can cause long-term complications.
3rd degree tear infection
A 3rd degree tear is a perineal injury suffered during vaginal delivery. It involves the perineal muscles and anal sphincter muscles.
Any wounds are susceptible to infection, although a 3rd degree tear is particularly vulnerable because of the proximity to the anus. There is a lot of bacteria in faeces, so the wound can easily become infected after the passing of a stool.
When a 3rd degree tear becomes infected, it will be very painful. It will also smell fetid, and will be more inflamed and tender than is usual for a 3rd degree tear. The wound may even ooze fluid.
If you have any suspicion that your 3rd degree tear is infected, you must immediately tell your GP or Community Midwife. Antibiotics should be prescribed without delay.
Preventing 3rd degree tear infection
Because a 3rd degree tear is at risk of infection, a patient should be given antibiotics before leaving hospital. She should also be advised upon good hygiene and wound care, as this will ensure the injury is kept clean and free of bacteria.
However, sometimes an infection will arise in any event, perhaps because the bacteria are resistant to the antibiotics prescribed. When this happens, further medical treatment is needed.
3rd degree tear infection not prevented or treated
If a 3rd degree tear is diagnosed, properly repaired and antibiotics prescribed, the medical practitioners involved will have given an acceptable standard of care. If an infection subsequently occurs but the problem is soon diagnosed and treated, there has been an acceptable standard of care.
But unfortunately there are times when an acceptable standard of care is not achieved. For instance, medical practitioners may fail to:
Prescribe antibiotics after repairing a 3rd degree tear
Diagnose an infected 3rd degree tear
Treat an infected 3rd degree tear
There are also times when the 3rd degree tear itself is not diagnosed and repaired, leaving the injury open to infection.
Claiming compensation for your injuries
If you have been affected by any of the medical mistakes described above, you might want to consider speaking to a solicitor. This is because you have been the victim of substandard medical care. This could entitle you to claim compensation for the injuries you have wrongfully sustained.
For more information, please get in touch with our legal team today.
Can We Help You With A Birth Injury Enquiry?
If we can help you to make a claim for compensation you will benefit from the following funding options:
Conditional Fees ("no win, no fee")
Legal Expenses Insurance
Private Funding
Structured Payment Plans
Would You Like Assistance from Specialist Birth Injury Claims Solicitors?
If you would like to benefit from a service of excellence with total commitment to client care from a small and friendly team, Glynns are ready and waiting to help you.
Please call us on 0800 234 3300 (or from a mobile 01275 334030) or complete our Online Enquiry Form.

---