Birth Injury Articles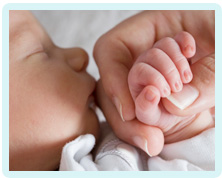 3rd Degree Tear Healing
It is not possible to say how long it will take to recover after a 3rd degree tear, as everyone heals at a different rate.
If you are not healing well, or you develop additional health complications, you need to speak to your midwife or GP.
3rd degree tear healing
There are certain things you can do after a 3rd degree tear to aid the healing process. You should be advised of these before you leaving hospital. They include:
Keeping the area clean, having a shower or bath once a day
Change your sanitary pad regularly
Washing your hands regularly to remain free from infection
Drinking lots of water
Eating a balanced diet
Doing pelvic floor exercises
Some women may also want to alleviate the pain and swelling by applying ice packs, taking anti-inflammatories and lying down regularly.
With these steps, most women will make a full recovery after a 3rd degree tear. It can take several months to completely heal, although everyone will recover at their own rate.
Is my 3rd degree tear healing normally?
A common question after a 3rd degree tear is: "am I healing normally?" It is a difficult question to answer because there is no set recovery period and some will take longer than others.
To ensure that all is healing well, it is important to attend your check-up appointments. Anything 'abnormal' should be detected during this time.
If you develop concerns after your six-week check-up, you should make another appointment with your GP. It is vital you do this sooner rather than later, because if there is something wrong, it is best treated at the earliest available opportunity.
Common causes of concern include:
Painful, smelly stitches – indicating an infection
Faecal urgency or incontinence
Faeces coming through the vagina – indicating a fistula
Constipation
Persistent pain
You remain anxious about having sexual intercourse
3rd degree tear complications
Your GP can check to see if there are any obvious issues at play, such as an infection. If the problem is not immediately apparent, you can be referred to a specialist – such as a gynaecologist or colo-rectal surgeon. This will enable you to find out whether you are suffering any additional complications.
If you are subsequently diagnosed with complications that should have been avoided, there could be a case of medical negligence. This typically happens with women whose tear has been negligently repaired due to surgical error, or due to a misdiagnosis.
If your 3rd degree tear has not healed because of medical mistakes, please get in touch with us to discuss taking legal action.
Please call us on 0800 234 3300 (or from a mobile 01275 334030) or complete our Online Enquiry Form.

---
Testimonials
"Before we contacted you we had no real idea that we had grounds for a medical negligence claim but after speaking to you if became clear that Wendy was indeed treated poorly. Chris took the time to explain what was happening and kept us to speed. Our deepest gratitude to you all and Chris in particular."
"I would like to say a big thank you to you for making this whole process easy and relatively painless. You kept me informed throughout and you were always polite and courteous in all forms of communication. I would not hesitate to recommend you to friends and family, so a really big thank you and I wish you all the best in the future."
» Read More Medical Negligence Testimonials?

Free Birth Injury Guide