Birth Injury Articles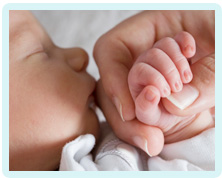 3rd Degree Tear Grade C
Third degree tears are subdivided into different grades: 3a, 3b and 3c. A 3c tear is the most severe because it involves both the internal and external anal sphincters.
Third degree tear
A 3rd degree tear is a type of perineal injury that can be sustained during a normal vaginal delivery.
There is a sliding scale of perineal injuries that are categorised according to the depth of the tear. A 1st degree tear is a very superficial injury that involves the skin, whereas a 4th degree tear extends right down into the anal canal and rectum.
A 3rd degree is therefore one of the more severe types of perineal injury, second only to a 4th degree tear.
Grades of third degree tear
Unlike the other types of perineal tear, a 3rd degree tear can be further subdivided into 3a, 3b and 3c tears. This subdivision allows medical practitioners to clarify the depth of the injury. The types of 3rd degree tear can be defined as follows:
3a: partial tear of the external sphincter involving less than 50% thickness
3b: tear of the external sphincter involving more than 50% thickness
3c: external and internal sphincter torn
Thus a 3c tear is the most extensive type of third degree tear because it involves the external anal sphincter and the internal anal sphincter.
Diagnosing a 3rd degree tear
A 3rd degree tear should be diagnosed shortly after the birth. Medical practitioners must record what type of 3rd degree tear is present – i.e. a 3a, 3b or 3c. It is important to make an accurate diagnosis because it will ensure the full length of the tear is repaired. If a patient has a 3c tear but a 3a tear is diagnosed, it could mean that the internal sphincter is left unrepaired.
Wrong diagnosis or poor repair
If your 3rd degree tear was not accurately diagnosed, and/or was not adequately repaired, there could be a case of medical negligence.
Typically we hear from women whose 3rd degree tear was not diagnosed and repaired whatsoever – either because they were told they had a 1st or 2nd degree tear, or because they were told that had not torn.
We also hear from women who were diagnosed with a 3rd degree tear, but the full extent of the tear was not repaired – either due to surgical incompetence, or because the wrong grade of 3rd degree tear was recorded.
Contact us today
To find out if you are entitled to make a claim for medical negligence, please get in touch with us today.
Please call us on 0800 234 3300 (or from a mobile 01275 334030) or complete our Online Enquiry Form.

---