Birth Injury Articles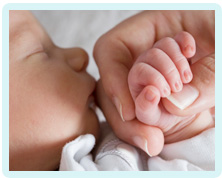 3rd Degree Tear Faecal Incontinence
If you develop faecal incontinence after giving birth, you need to seek medical advice from your GP. It is likely you will be referred on to a specialist who can check whether there are any underlying complications.
Faecal incontinence after giving birth
Faecal urgency and faecal incontinence can develop after giving birth. However, these issues are by no means 'normal' and if you find that you cannot control your bowels after giving birth, you need to speak to your doctor.
3rd degree tear faecal incontinence
It may be that you have already been diagnosed with a 3rd degree tear. If so, it will be necessary to check that the full extent of the tear has been sutured. If part of the anal sphincter has not been stitched, it will be difficult to defer defecation. Problems may also arise if a fistula or infection has developed.
However, you may be told after further tests that nothing unusual can be seen. In such cases, a patient has normally sustained extensive pudendal nerve damage, which can affect your ability to prevent the passing of a stool. Sadly this can occur during childbirth, and treatment will focus upon managing a patient's symptoms.
I've just been told I've got a 3rd degree tear
On the other hand, it may be that you left hospital without a missed 3rd degree tear. If so, a medical practitioner will be able to detect the undiagnosed injury.
Having an unrepaired 3rd degree tear will certainly result in faecal incontinence because there will be a large defect in the anal sphincter. This is particularly true of missed 3c tears which involve both the external and internal anal sphincter.
If you have only just been told that you have a 3rd degree tear, you may need a surgical repair. Nevertheless, these are not entirely effective when performed weeks or months after the birth, so you may be offered non-surgical treatment such as sacral nerve stimulation.
Compensation for 3rd degree tear faecal incontinence
If your 3rd degree tear was missed by the doctors/midwives in hospital, causing you to develop faecal incontinence, you have been the victim of medical negligence.
If your 3rd degree tear was not properly repaired, or complications (such as infection) were not diagnosed and treated, you have been the victim of medical negligence.
As the victim of medical negligence, you could be entitled to pursue a claim for compensation. Please get in touch with us to find out more.
Please call us on 0800 234 3300 (or from a mobile 01275 334030) or complete our Online Enquiry Form.

---
Testimonials
"Before we contacted you we had no real idea that we had grounds for a medical negligence claim but after speaking to you if became clear that Wendy was indeed treated poorly. Chris took the time to explain what was happening and kept us to speed. Our deepest gratitude to you all and Chris in particular."
"I would like to say a big thank you to you for making this whole process easy and relatively painless. You kept me informed throughout and you were always polite and courteous in all forms of communication. I would not hesitate to recommend you to friends and family, so a really big thank you and I wish you all the best in the future."
» Read More Medical Negligence Testimonials?

Free Birth Injury Guide