Diagnosis Failure Or Delay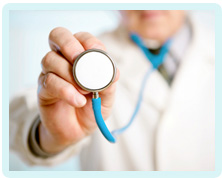 Doctors Fail To Diagnose Subarachnoid Haemorrhage
Diana repeatedly sought medical advice for severe headaches but was continually diagnosed with migraines. Only when she collapsed and had an epileptic fit did doctors perform a scan. This showed she had a brain aneurysm, the delayed diagnosis of which Diana had always been healthy but in 2009 she began to suffer from severe headaches with an intense pain behind her right eye. A couple of times she was in so much pain she had to leave work early, unable to do anything other than lie in her bed.
After having another painful episode in her weekly fitness class, Diana decided to attend an NHS walk-in centre. Here she was told she probably just had a migraine and was given some paracetamol. But a couple of weeks later she once again suffered from intense head pain.
Feeling concerned, her sister drove her to the local Accident and Emergency department. Diana described her symptoms to the doctor, explaining that she had been experiencing severe headaches with a pain behind her right eye. This time she was diagnosed with cluster headaches and prescribed co-dydramol.
However, this did little to alleviate her symptoms, so a week later she attended her GP. Diana was then diagnosed with a sinus problem and was given a course of antibiotics. She returned to her GP a further three times, and on each occasion she was told to continue with the antibiotics, even though the medication evidently was not helping.
After having sought medical attention on five separate occasions, Diana took a turn for the worse. She collapsed and started having a seizure. Her partner called an ambulance which took her straight to hospital.
The doctors did a CT scan which showed a subarachnoid haemorrhage in her brain. She was referred to the neurosurgery unit at another hospital. By the time she arrived, she had had seven fits. Doctors decided to operate immediately. Although this probably saved her life, Diana was at this point extremely unwell. She fell into a coma after surgeryand was placed on a life support machine.
Thankfully, after weeks Diana came out of her coma, although doctors remained uncertain about whether or not she would survive. Gradually, however, she began to get stronger. After a month she was able to talk and could even walk short distances on her own. After two months she was finally released from hospital.
Nevertheless, she continued to have problems. Because of her aneurysm Diana could not remember how to cook or do the housework and had to be taught all over again. She needed help getting dressed, had balance and speech difficulties, and could not open her eye for around three months. Her recovery was all the more difficult because the hospital failed to arrange the appropriate rehabilitation after her discharge from hospital.
Diana was told by a nurse that a lot of her complications could have been avoided if a simple scan had been arranged by her GP when she first complained about the headaches. If this has been performed, a diagnosis would have been made earlier and Diana's life would not have been put at risk.
We advised Diana that this failure represented a substandard level of medical care. We subsequently helped her make a medical negligence claim and she was awarded over £200,000 compensation.
(Details which might identify out client have been changed.)
Would You Like Assistance from Specialist Medical Negligence Claims Solicitors?
Early legal assistance can be vital so please contact us if you would like to discuss your situation. Please call us free on 0800 234 3300 (or from a mobile 01275 334030) or complete our Online Enquiry Form.

---