Necrotising Fasciitis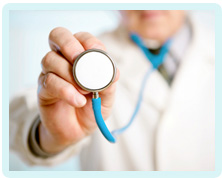 Necrotising Fasciitis – Type 1
There are three different types of necrotising fasciitis. In this article we explore type 1 necrotising fasciitis in more detail.
Type 1 necrotising fasciitis
Necrotising fasciitis is a bacterial infection. Whatever type of necrotising fasciitis a patient has, it is certain to have been caused by some sort of bacteria. However, the bacteria which cause the infection changes in each type.
In type 1 necrotising fasciitis, the infection is usually caused by a combination of aerobic and anaerobic bacteria. When an infection is caused by a number of different bacteria, it is called a polymicrobial infection. Examples of the type of bacteria that can lead to type 1 necrotising fasciitis include: Clostridium, Staphylococcus aureus, Haemophilus, E.Coli, Vibrio, Candida and forms of the bacteroides species.
Type 1 necrotising fasciitis is seen most frequently in patients who have a weakened immune system due to old age, diabetes or other medical conditions.
How is type 1 necrotising fasciitis diagnosed and treated?
The different types of necrotising fasciitis will all result in similar symptoms, such as:
Severe pain at the site of infection that has no obvious cause
Flu-like symptoms
Vomiting and diarrhoea
These symptoms happen because the bacteria have got into the deep tissues and have begun to multiply. This will release a toxin that is harmful to the surrounding tissue, causing it to break down and die. This will be very painful and will make the patient suffer the characteristic symptoms of an infection (such as a temperature, chills, fatigue and feeling unwell).
As the bacteria progress, they will destroy so much tissue that the damage is visible. This can result in changes to the skin, including pus-filled blisters, dark red/purple skin, and an open wound.
These symptoms are usually sufficient to diagnose a soft tissue infection. Suspicions should be especially raised if the patient is elderly, diabetic or has another medical condition that suppresses the immune system. A specific diagnosis of necrotising fasciitis can be determined through tests and exploratory surgery.
When the condition is diagnosed, the patient must be put on intravenous broad-spectrum antibiotics. These can be refined once medical practitioners have verified that it is type 1 necrotising fasciitis, and the bacteria responsible for the infection. He/she must also undergo emergency debridement surgery, where all the infected tissue is cut away.
Failure to diagnose and treat type 1 necrotising fasciitis
As with all types of necrotising fasciitis, type 1 necrotising fasciitis will be fatal if not treated in time. If you or your loved one has suffered complications because of a delay in diagnosis and treatment, please get in touch with us to see if there is a case of medical negligence.
Contact us today
To make a necrotising fasciitis medical negligence compensation claim, please get in touch with us today.
Please call us free on 0800 234 3300 (or from a mobile 01275 334030) or complete our Online Enquiry Form.

---
Testimonials
"Before we contacted you we had no real idea that we had grounds for a medical negligence claim but after speaking to you if became clear that Wendy was indeed treated poorly. Chris took the time to explain what was happening and kept us to speed. Our deepest gratitude to you all and Chris in particular."
"I would like to say a big thank you to you for making this whole process easy and relatively painless. You kept me informed throughout and you were always polite and courteous in all forms of communication. I would not hesitate to recommend you to friends and family, so a really big thank you and I wish you all the best in the future."
» Read More Medical Negligence Testimonials?

Free Nectorising Fasciitis Guide