Necrotising Fasciitis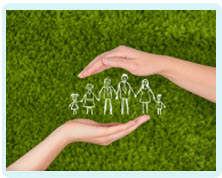 Necrotising Fasciitis Surgery
Emergency surgery is fundamental to survival in necrotising fasciitis. Without treatment, the infection can spread at a rate of 2 - 3 cms per hour destroying tissue as it moves through the body. Within days, the body's essential organs may cease to function and the patient may die.
The development of necrotising fasciitis
Once the relevant bacteria have gained access to the interior of the body, the infection starts to develop in the tissue layers beneath the skin. As the bacteria interacts with its environment, the surrounding tissue becomes starved of oxygen and dies.
Surgical Debridement
In order to prevent the further spread of infection in necrotising fasciitis, all infected tissue must be removed. This surgical procedure is called debridement. Once a patient has been diagnosed with necrotising fasciitis, both extensive and prompt debridement are necessary.
If debridement surgery is delayed, it can have a detrimental impact on the long-term outcome for the patient. It may reduce the patient's chances of survival. It is also likely to mean that the degree of debridement required will be more extensive as the infection will have had longer to develop and a greater area of tissue will have been affected.
Due to the virulence of necrotising fasciitis, it is unlikely that one debridement procedure will be sufficient to halt the progress of the infection and subsequent procedures may be required. It is, therefore, imperative that the initial debridement procedure is sufficiently extensive to minimise the need for further procedures and to reduce the future impact of the infection.
Amputation
Necrotising fasciitis is most commonly found in the abdomen and extremities and it is occasionally necessary to amputate a limb in order to try to save the life of the patient.
Vital early diagnosis
It is clear that necrotising fasciitis is a hugely destructive illness and that the extent of destruction that it can cause is partly related to the speed with which it is treated.
Therefore, accurate and timely diagnosis is vital. The early signs of infection and possible necrotising fasciitis warrant an urgent referral for further investigation.
However, prompt and effective treatment - both with antibiotics and surgery - can only occur if the patient's symptoms are recognised and acted upon.
Medical Negligence
If red flag symptoms of necrotising fasciitis are missed or misdiagnosed leading to a poorer outcome than might otherwise have been possible, it is possible that the patient has received a substandard level of care.
Contact Glynns Solicitors, specialists in medical negligence, if you or a loved one have suffered the appalling long-term effects of misdiagnosed necrotising fasciitis.
Please call us free on 0800 234 3300 (or from a mobile 01275 334030) or complete our Online Enquiry Form.

---