Necrotising Fasciitis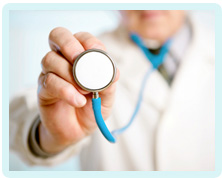 Necrotising Fasciitis: Obesity and Diabetes
A patient is more at risk of developing necrotising fasciitis if he/she is morbidly obese and suffers with type 2 diabetes. In this article we explore why diabetes and obesity (which are commonly seen together) increase the risk of necrotising fasciitis.
Why does diabetes increase the risk of necrotising fasciitis?
Necrotising fasciitis is a type of bacterial infection that affects the body's soft tissues. Diabetic patients are more prone to infection. This is because diabetes can cause high levels of glucose to remain in the blood, which can in turn weaken the immune system. Diabetic patients are therefore less able to fight off infections.
Furthermore, having high blood sugar levels can injure the nerves and limit the flow of blood to the hands and feet. This, too, can increase the patient's susceptibility to infections.
Necrotising fasciitis is a particularly aggressive infection, so someone with poor immune defences is not going to be able to overcome the bacteria. The bacteria are known to reproduce and travel through the body quickly. Again, this is a problem for diabetic patients, as their weakened immune system mean infections are more difficult to eradicate and more likely to spread.
Why does obesity increase the risk of necrotising fasciitis?
Patients who are morbidly obese are more likely than other patients to develop serious infections. This is because fat is an optimal environment for serious infections to develop. And like diabetes, obesity weakens the immune system, making it harder to avoid succumbing to an infection.
Obesity often leads to type 2 diabetes, so the two conditions are regularly seen in the same patient. It is thought this happens because obesity changes the body's metabolism, causing more fat molecules to be released into the blood. This can change the way that insulin works. Insulin is the hormone responsible for moving glucose from the blood and into the cells, so if it is not working properly the glucose will remain in the bloodstream – leading to diabetes.
Being aware of the risks
Obese patients with diabetes are more at risk of infection, and medical practitioners must take this into consideration when providing treatment, as it can mean that a different course of treatment is needed.
For instance, if a healthy patient presents with an abscess, a doctor may decide that only antibiotics are necessary because the abscess is likely to heal of its own accord. But in a patient with diabetes/obesity, it is unlikely that an abscess will heal without medical intervention, and in fact it is possible that it will deteriorate into a serious infection such as necrotising fasciitis. This means the abscess should be drained instead.
Doctors failed to treat my infection
If you developed necrotising fasciitis because clinicians failed to treat an infection (such as an abscess) quickly enough, please get in touch with us at Glynns Solicitors.
Please call us free on 0800 234 3300 (or from a mobile 01275 334030) or complete our Online Enquiry Form.

---
Testimonials
"Before we contacted you we had no real idea that we had grounds for a medical negligence claim but after speaking to you if became clear that Wendy was indeed treated poorly. Chris took the time to explain what was happening and kept us to speed. Our deepest gratitude to you all and Chris in particular."
"I would like to say a big thank you to you for making this whole process easy and relatively painless. You kept me informed throughout and you were always polite and courteous in all forms of communication. I would not hesitate to recommend you to friends and family, so a really big thank you and I wish you all the best in the future."
» Read More Medical Negligence Testimonials?

Free Nectorising Fasciitis Guide