Necrotising Fasciitis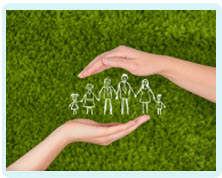 Necrotising Fasciitis Missed in Accident and Emergency
If a necrotising fasciitis infection is missed by the medical professionals in an Accident and Emergency facility, the patient may well suffer a very poor outcome. This horrific infection travels through the body at an alarming rate, destroying the deep, soft tissue and putting the patient's life at risk.
Symptoms of necrotising fasciitis
It is essential that any signs or symptoms which might suggest a necrotising soft-tissue infection are thoroughly investigated in order to rule out this appalling and deadly infection.
Symptoms which might indicate a possible necrotising infection would include intense pain, swelling and redness or discolouration, possibly around the region of a wound or cut.
The patient may also be suffering symptoms suggestive of infection such as a high temperature.
Location
Although necrotising fasciitis can occur anywhere in the body, it is most common in the abdominal region, the limbs or the perineum and genital region. Any suspicion of a soft-tissue infection in these areas should prompt the concern and attention of medical professionals
This terrible infection is fairly rare and many medical practitioners may never have encountered it. It is vital, therefore, that, where Accident and Emergency practitoners have any doubt as to the accuracy of their diagnosis, they seek the advice and opinion of a more senior specialist.
Emergency treatment
Time is of the essence in the treatment of a necrotising fasciitis infection and, for this reason, substandard medical care in Accident and Emergency may be particularly crucial for the patient's prognosis.
The patient's only hope is for all infected tissue to be surgically removed from their body. The sooner this happens, the better their chance of recovery, even of survival. Any delay can increase the patient's risk of mortality or, where they survive, increase the extent of tissue which will need to be removed.
Many necrotising fasciitis patients find themselves facing a lifetime of disability due to their horrific illness and any opportunity to minimise that outcome should be taken.
Claiming compensation for medical negligence
If medical professionals in Accident and Emergency fail in their duty of care to a patient by misdiagnosing necrotising fasciitis or by failing to seek more specialist advice, they may be regarded as having been negligent.
If the patient suffers a poor long-term outcome as a result of the subsequent delay in treatment, it may be appropriate to make a claim for compensation.
Contact Glynns Solicitors, specialists in medical negligence compensation claims to discuss your situation with an experienced solicitor.
Please call us free on 0800 234 3300 (or from a mobile 01275 334030) or complete our Online Enquiry Form.

---
Testimonials
"Before we contacted you we had no real idea that we had grounds for a medical negligence claim but after speaking to you if became clear that Wendy was indeed treated poorly. Chris took the time to explain what was happening and kept us to speed. Our deepest gratitude to you all and Chris in particular."
"I would like to say a big thank you to you for making this whole process easy and relatively painless. You kept me informed throughout and you were always polite and courteous in all forms of communication. I would not hesitate to recommend you to friends and family, so a really big thank you and I wish you all the best in the future."
» Read More Medical Negligence Testimonials?

Free Nectorising Fasciitis Guide