Surgery Negligence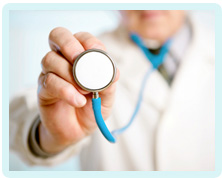 Gall Bladder Surgery
When Brian started to experience stabbing pains in the right hand side of his abdomen, he was diagnosed with a gall bladder problem, and was told it would have to be removed.
In 2008, Brian attended his local hospital's Day Surgical Unit for his operation. A 'laparascopic cholecystectomy' was performed under general anaesthetic, a procedure which involves keyhole surgery to remove the gall bladder. Brian was told the operation had gone well, and he was discharged later that day.
Two days later, however, he began to vomit violently. Brian contacted his GP, who arranged an ambulance to take him to hospital. He was transferred to the Medical Assessment Unit where his condition continued to deteriorate. Medical staff drained the contents of his bowel and stomach with a tube, which stayed in place for five days.
Brian was then informed another operation was necessary, as there appeared to be some damage to his bowel. During this second procedure it became apparent that the surgeon who performed Brain's first operation had inadvertently stitched his bowel to his abdomen. This obstruction meant faeces had been unable to pass along the length of the bowel, which had resulted in fluid backing up and entering his stomach.
This mistake was then duly repaired during the second operation, but Brian continued to be in a great deal of pain and discomfort. He returned to hospital the following month once again vomiting violently, and medical staff noted that faeces was still not passing along the bowel. He was discharged two days later and given medication, but Brian remained feeling sick.
As a consequence of the surgeon's error, Brian suffered a large amount of weight loss, has difficulty emptying his bowels, and had to take time off from work. He felt traumatised by the treatment he received, and contacted Glynns to discuss his case.
We instructed a medical expert to prepare a report on Brian's behalf. This found that the surgeon who had carried out the removal of Brian's gall bladder had provided treatment which fell below an acceptable standard of care. We sent a letter of claim to the hospital and, following investigations, the NHS Litigation Authority admitted liability. The case was quickly settled, and Brian was awarded over £20,000 compensation.
(Details which might identify our client have been changed.)
Would You Like Assistance from Specialist Surgey Negligence Claims Solicitors?
If you would like to benefit from a service of excellence with total commitment to client care from a small and friendly team, Glynns are ready and waiting to help you.
Early legal assistance is essential. Please call us free on 0800 234 3300 (or from a mobile 01275 334030) or complete our Online Enquiry Form.

---